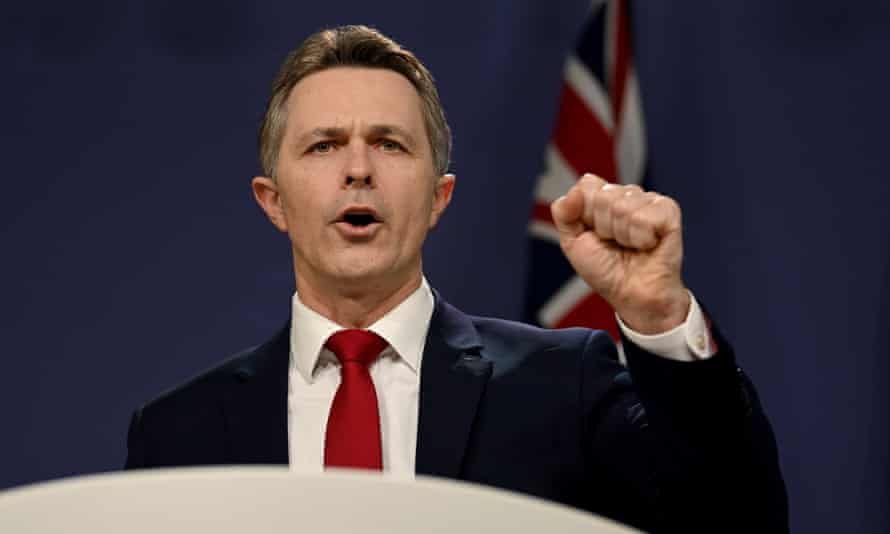 NSW reports 23 lives lost to covid
NSW Health has reported 23 people have died from covid in the last 24 hours
ACT Labor senator Katy Gallagher is facing a challenge from progressive independent Senate candidates including David Pocock and Kim Rubenstein, as well as the Greens, which cuts into her vote.
She told the ABC:
Well, it means I've got to fight for every vote. Absolutely. But I do that at every election. That's my the way I've approached campaigning. And this is no different from that. I think the race is tighter in this Senate campaign that it has been in the past. And I think when you have a number of progressive candidates, common sense would say that that would split the vote in a number of different ways.
So that is the one unity ticket among the major party MPs – not believing the polling.
(Which makes you wonder why their campaigns spend so much money on polling and research, but anyway … )
Labor senator Katy Gallagher is also not putting much stock in the polls.
She told RN Breakfast:
Well, I don't think we take anything for granted. I mean, it's the 21st of May and the results that come from that that matter. You know, I think this is a very close election. Labor has only won from opposition three times – we take nothing for granted.

And we will be campaigning right up until the 21st of May. That's the reality, you know, and, you know, polls come and go and as we know, from previous elections, you know, they're not, you know, you don't necessarily believe them, in fact, you don't believe them, because the votes that matter is the votes that are cast on polling day, and that's the only measure of what the people of Australia think and where they want to go.

And that's what we're focused on arguing for a better future with all of the policies that we have outlined.
Josh Frydenberg told ABC TV he believed Scott Morrison won last night's debate.
He also believes moderate Liberals have done enough to influence the party from the inside:
Let me take those issues individually. Firstly, on climate, I was a strong advocate, so was Dave Sharma, Katie Allen, Trent Zimmerman, Tim Wilson and many others about getting Australia to net zero emissions by 2050.

We argued inside the tent for that commitment and it's in Australia's best interest that it's a bipartisan commitment. It's Australia's best interest that we have a long-term economic plan to get there.

My opponent in Kooyong, like the other so-called teal independents, they have high emissions reduction targets but they have no plan to get there.

There is no detail other than the target itself which they can't explain. There's no costings behind it. Whereas we're investing in microgrid, small-scale solar and wind in remote communities, Snowy Hydro 2.0 to be the big battery for the east coast of Australia, clean hydrogen with new hubs right across the country from Bell Bay in Tasmania and the Hunter, in New South Wales, to La Trobe here in Victoria – La Trobe Valley in Victoria. We're focusing on new technologies to get us there.
I would have to concur.
What does Jason Clare think of Scott Morrison calling Anthony Albanese a "loose unit"?
Oh, look, my response to that, you know, it shows a prime minister who's getting pretty desperate, isn't he? All he's got left is sledges.

He was asked a question in this debate last night, "Say something nice about Anthony Albanese." He couldn't even do that without putting in a sledge.

This has all the hallmarks of a try-hard Trump. Got nothing left, no policies. All he's got left is excuses and sledges. I think Australians expect better than that. They want better than that. They're yearning for something better than that. And that's what we are offering the Australian people at this election.
Q: Can you tell me if a Labor government would be putting 5.1% wage rise for minimum wage as a recommendation in a formal submission to the Fair Work Commission?
Jason Clare:
Well, we're saying if we were put in a position in government, is we don't want Australians to go backwards.

Remember what this is all about. You're talking about Aussies on the lowest incomes, 20 bucks an hour, and saying we don't want them to go backwards. We want their wages to keep up with the cost of living. What does that mean? That means an extra $1 an hour. A dollar an hour. From $20 an hour to $21.
Q: You're asking people to vote for you, and Anthony Albanese said, "Absolutely, 5.1%." Will it be part of a formal submission?
Clare:
I think I just did …
Q: No, you didn't.
Clare:
I think I just did. OK, go ahead. I don't want to interrupt you.
Q: No, no, no, I just think we need to be super clear about this, whether 5.1% will be the figure in a formal submission to the Fair Work Commission?
Clare:
And what Albo said last night, what Jim said, I think, to Fran yesterday, is that if we win the election, we'll put in a submission, and the basis of that submission is we don't want Aussies going backwards.

You know, when you've got inflation at 5.1%, do we really want Aussies on the lowest incomes to go backwards? You know, it's not surprising that the Labor party is saying that we don't want Aussies to go backwards, but Scott Morrison is saying that he would be very happy if that happens. And while all of that's happening, Lisa, while we're having this debate, you've got Liberal MPs saying that politicians should get a pay rise. The only people in this country that the Libs ever think should get a pay rise are politicians. That shows just how out of touch this mob is.
But like Josh Frydenberg, Jason Clare is also not paying attention to the polls:
I think we've learnt the hard way, haven't we, don't listen to the polls. We've gotta win seats, not polls.

But I do think that Australians have worked this bloke out. You know, they gave him a chance three years ago, and we've worked out – I think Australians have worked out – that this bloke just makes up excuses, never takes responsibility, always blames other people, doesn't do the job.

You know, how many times have you heard Scott Morrison say, "It's not my job."

Last night he refused again to setting up a national anti-corruption commission. Now, after everything that's happened, all of the evidence of the rorts and corruption and misuse of taxpayers' money, he still refuses to act there.

We got that question about Alan Tudge last night. Now, here's a minister who is minister for education, half a million bucks of taxpayers' money has now been paid in compensation to his former staffer, and we find out last night that, if they win in nine days' time, he will be back as the education minister.

The bloke is in hiding at the moment. Scooby-Doo* would struggle to find him. But if they win in nine days' time, Scott Morrison says he's back and he's education minister. They're treating the Australian people with contempt.
*We all know it was mostly Velma doing the work.
Jason Clare was on ABC TV this morning, continuing to sell Labor's messages:
We've had three debates now, everything from a cage fight to a tea party, and Albo has won all three. And I think the reason for that, you could hear it from what people were saying in the pubs after the debate on Channel Seven – they made the point that Albo was talking from the heart and talking about our plans to fix the real problems that are out there. All you heard from Scott Morrison was rehearsed excuses. And I think Australians are sick of that.
Expect some more campaign inflation chatter today, and not just over whether or not minimum wages should keep pace with prices. (We looked at some of the "alarmism" here yesterday.)
Overnight we had the US posting its CPI for April, with the headline rate coming in at 8.3% (ours was 5.1% in the March quarter, heading towards 6% by the year's end – if the RBA is on the money).
Anyway, the US data was a bit higher than the market expected, so stocks and some other asset prices took a dive.
As Westpac stated in a note this morning:
While the pullback in annual inflation from last month suggests that a peak has been seen, the breadth of rising components raises concerns that inflation pressures will be slow to subside.
Germany, Europe's biggest economy, also posted 7.4% CPI inflation in April – the highest since 1981. That number, at least, met market expectations, so European stock investors didn't panic.
Overseas shifts will be among the challenges for whichever PM and treasurer take over after polls close here on 21 May. We looked at some of the main ones here:
A reminder that there are two big economic numbers to land before the votes are in.
On 18 May, we'll see the wage price index for the March quarter, which NAB chief economist Alan Oster reckons would come in at an annual rate of about 2.5%. (Half the CPI rate, in other words.)
The next day we'll get the April labour market figures – and we'll see if the jobless rate stays around 4% – the lowest since the mid-70s.
The treasurer was also asked on ABC radio about Scott Morrison's statement last night that he wants to see wages go up – by how much?
Josh Frydenberg:
Well, ultimately, what we're saying is we are making a submission based on the economic circumstances of the time, Labor is saying they're calling for a 5.1% increase. And this is a flippant comment from the leader of the opposition. Again, it goes to his lack of competence around the economy, just as he didn't know the unemployment rate, and he didn't know the cash rate. And you cannot run a $2.1tn economy one press conference at a time. You can't run your small business, one press conference at a time and you can't run an economy, one press conference at a time.
But does the government have an idea of how much it would like to see wages raise by, given the Howard government used to put a figure on it?
That has not been our practice and that is not our policy, and it seems that that we had a similar position previously from the Labor party until just two days ago and Anthony Albanese made a policy on the run and it goes again, to what is the consequences for small businesses that they now need to find an extra 5.1% for their payroll based on a flippant comment at a press conference.
He then seems to remember midstream that it is the independent Fair Work Commission which sets the minimum wage and continues:
What they do is wait for the Fair Work Commission to make a determination and we know that about 2% of people are on that minimum wage, but another 23% are actually impacted by the flow on through the award system.

And so you got more than 2.7 million people that are going to be impacted by such a decision that has brought consequences.

Anthony Albanese has not thought through his position. And as a result, you've got independent economists have said that a 5.1% increase in wages as put by him would lead to higher interest rates, and therefore more pressure on mortgage holders, higher inflation and a loss of jobs.
Which doesn't explain what would happen if the FWC decides to raise wages by a similar rate or how arguing one case is "interference" but arguing another is not.
Josh Frydenberg says he isn't paying to much to the polls or modelling showing he is danger of losing his seat:
And there was one newspaper outlet that ran an exit poll [last election] at the polling booth that I was at in my electorate and said that and found that I was getting more than half the vote. So I don't necessarily agree with the conclusions of the these polls which you should not take as gospel.
So is he confident he will win?
I'm confident that I can continue to win the trust of my local community because I've worked hard for them for the last 12 years [and] we've delivered for our local community. But also at the same time I've been treasurer of the country during the most significant economic shocks since the since the Great Depression and the feedback on the booth and indeed, more broadly in my communities, from small business owners and from family members about how programs like jobkeeper actually kept them alive during a pretty tumultuous time. So people are coming out of this crisis. And they understand that the government has done the right thing by them.
We have made it to the single digits. There are just nine days to go in the campaign, and with all leaders' debates done and dusted, expect a flurry of activity from both leaders as each tries to win over voters in crucial seats.
Modelling by YouGov, first published by NewsCorp, shows Labor is on track for a majority win, including Josh Frydenberg losing his seat of Kooyong.
Speaking to ABC radio, Frydenberg said the "quiet Australians" haven't had their say yet:
Obviously, many will vote before election day, but the bulk will vote on election day. And John Howard used to call them his battlers.

Sir Robert Menzies called them the forgotten people. Scott Morrison has described these people as the quiet Australians …

They're not people who are jumping on the keyboard as keyboard warriors on the Twitterverse. They're not people who are marching outside the streets on the issue of the day. And they're not people who who are necessarily always answering the calls from the pollsters.

Who they are is mum and dads. Young people who just want to keep their job. In many cases, they run a small business, they want to health system that they can rely on at times of need, they want a good education for their kids. They want to be secure in their retirement. And, if they're people of faith, they actually want to go to church and not be ridiculed for that for that fact.
It seemed both leaders got the memo before last night's debate that people weren't particularly inspired by two middle-aged men sniping at each other like cats over the comfy blanket, so they managed to keep it together for the final verbal battle.
Seven's pub test had Anthony Albanese as the winner, winning every pub except Hasluck, where the result was tied. Voters seemed to resonate with the "we can do better" message, which has been created as a foil to the "you have a choice to make" message from Morrison.
So no early birthday present for the PM.
Today each leader is back on the campaign proper, with every day from now on to count. Last election, after Bob Hawke's death, the Labor campaign slowed down in the final days while the Liberal campaign crisscrossed the country. Don't expect either to take the foot off the accelerator.
So strap in.
Katharine Murphy, Sarah Martin, Josh Butler, Paul Karp and Daniel Hurst will help you make sense of the day, and you have Amy Remeikis on the blog for most of the day.
Let's get into it.

ALL CREDIT AND ORIGINAL CONTENT CAN FOLLOW HERE

Source link